The Promenade Shops at Saucon Valley Mural - CALL FOR ARTISTS
---
Center Valley -
CALL FOR ARTISTS
The Promenade Shops at Saucon Valley Mural
Center Valley, Pennsylvania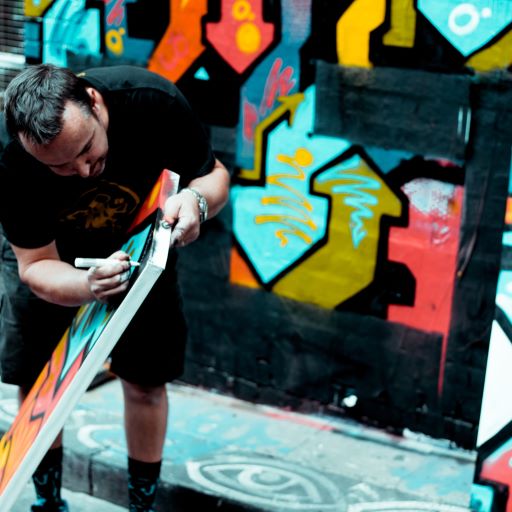 Deadline: March 17, 2023, at 5:00pm EST
The Promenade Shops at Saucon Valley is seeking qualifications from an artist or artist team for a public art opportunity in Center Valley, Pennsylvania. 
Project Description:
The Promenade Shops at Saucon Valley is looking for an artist/artist team to design and create a large-scale mural on two exterior walls flanking the AMC theatre.  This project will add vibrancy to the building and surrounding area and reflect the character of the lifestyle center.  As part of a rebranding campaign, we are focused on shaping the evolution of American retail by creating a superior multi-faceted shopping experience that serves not only as a place of commerce, but as a place of community.
The mural will be painted in two parts on the exterior curved block walls facing west.  The approximate total square footage to be painted is 500 square feet (see attached images).
The goals for the project include creating unique character in a specific area of the center, increasing public awareness of art, create and celebrate a strong sense of place, be suitable for public viewing by all ages and broadening visitor's perspectives of public spaces within the center.  The artist(s) selected should have demonstrated experience working in public locations subject to vandalism and weather.
Final selection of one artist or team will be made by the center management, center ownership, and stakeholders based on proposal and qualifications.
Budget:
Project budget is $20,000 for the entire project.  This budget is inclusive of all costs associated with the design, planning, materials, installation, and completion of the project. The budget includes all travel costs and insurance.  This project is privately funded.
About The Promenade Shops at Saucon Valley:
The Lehigh Valley's premier outdoor lifestyle center, The Promenade Shops at Saucon Valley in Center Valley, Pennsylvania, features a unique blend of more than 50 national retailers, one-of-a-kind boutiques, top-notch eateries, and entertainment destinations all located in a beautiful, mountainside setting. The center's Main Street has a small-town feel complete with water fountains, fire pits, gathering areas, a stone gazebo, a grand platform event stage, and a Town Square surrounded by amphitheater-style seating. At The Promenade Shops at Saucon Valley, guests will enjoy the ambiance, convenience and unparalleled collection of dining, retail, and entertainment options.
Submission Requirements:
Resume or CV: Current professional resume or curriculum vitae (CV), detailing professional artistic accomplishments, list of relevant past projects, and references from previous public art projects.
Digital Images: 5 digital images of previously completed artwork. Include image list with date, size, location, and description of work.
Letter of Interest: This letter should address how the applicant's previous experience and current artistic direction will result in a successful public art project for this space. Include information on how you would approach this project, particularly the community engagement portion.
Concept: Explain the artist's or artist team's initial concept for artwork at the sites included in this Call to Artists. This should include design concept and goals; design sketches representing proposed projects; how the design meets the project goals; art medium(s) to be used; materials; and approximate installation time frame. Conceptual design drawings including information about the actual dimensions of the artwork and placement will be required.
How to Submit Your Qualifications:
Submit images of past work, resume, letter of interest, concept, and biographical information via email to:
Natalia Stezenko, General Manager
Timeline:
March 17, 2023 - Submission due
April 2023 - One artist/team selected.
May 2023 - Mural design finalized.
June 2023 - Artwork installation
Questions:
The Promenade Shops at Saucon Valley
Natalia Stezenko, General Manager
2845 Center Valley Parkway, Suite 43
Center Valley, PA 18034
610.791.9707
www.thepromenadeshopsatsauconvalley.com
Site Images: