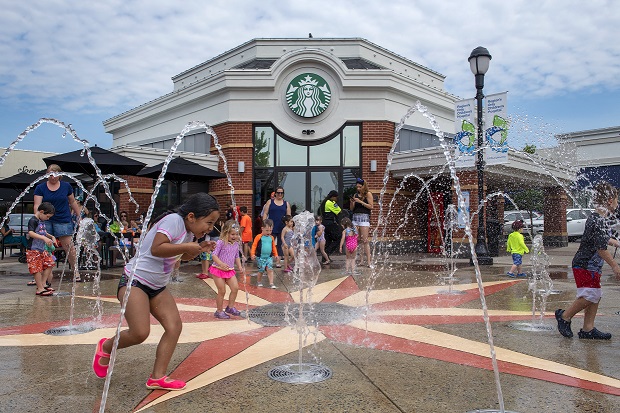 The Interactive Pop-Jet Fountain is officially open for the Summer season! It is located in Town Square presented by Lehigh Valley Health Network (near Starbucks).
Be sure to confirm the Interactive Pop-Jet Fountain is up and running prior to your visit as maintenance and repairs occur daily. 
The Interactive Pop-Jet Fountain Summer Hours of Operation:
Daily 10:00 AM - 5:00 PM
* Weather permitting
In order to maintain a safe and enjoyable environment for all visitors, please follow the rules and regulations:
- Children MUST be supervised by an adult at all times.
- Proper footwear and attire MUST be worn at all times. Bare feet and nudity are strictly prohibited.
- Disposable and cloth diapers are not permitted. Please use diapers designed for pool use.
- NO drinking the Pop-Jet Fountain water. There is a public water fountain for drinking near the restrooms behind Starbucks.
- NO running, pushing or excessive splashing.
- NO objects or toys are permitted in the fountain.
- NO dogs in the fountain area.
- NO glass objects or containers are allowed.
- NO smoking in the fountain area or inside the Gazebo.

If the rules and regulations are not followed as directed, the Interactive Pop-Jet Fountain will be shut off for an undisclosed amount of time and offenders will be asked to leave property.