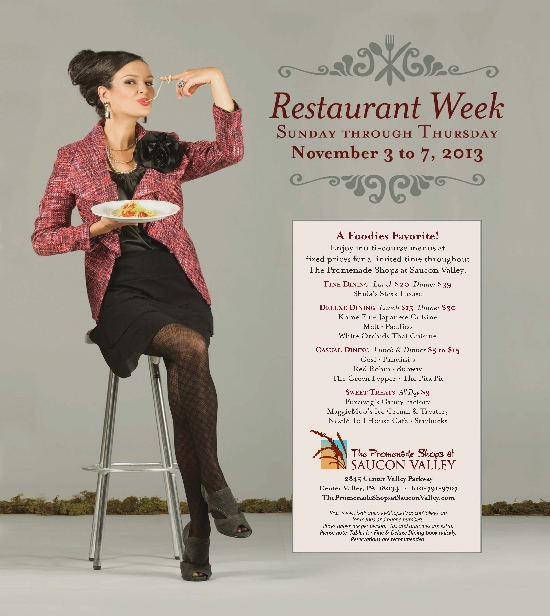 A Foodie Favorite!
Restaurant Week returns to The Promenade Shops at Saucon Valley beginning Sunday, November 3, 2013 through Thursday, November 7, 2013. During this limited time, enjoy multi-course menus at fixed prices at every restaurant located at The Promenade Shops at Saucon Valley. Reserve Your Table Today! This in-demand event is sure to book fast!
FINE DINING - Lunch $20 | Dinner $39

Shula's Steak House

610-841-5600

DELUXE DINING - Lunch $15 | Dinner $30

Kome Fine Japanese Cuisine

610-798-9888

Melt

610-798-9000

Pacifico

610-798-9666

White Orchids Thai Cuisine

610-841-7499

CASUAL DINING - Lunch & Dinner $5 to $15

Cosi

610-797-8801

Pandini's

610-841-7974

Red Robin

610-625-3176

Subway

610-841-3848

The Pita Pit

610-841-7482

SWEET TREATS - Available All Day $3

Fuzziwig's Candy Factory

610-841-7957

Maggie Moo's Ice Cream & Treatery

610-791-6400

Nestle Toll House Cafe
610-841-2414
Special Offer

Starbucks Coffee Co.

610-791-3056

Before you go, here are a few tips to plan ahead:

Make reservations as early as possible at Fine & Deluxe Dining restaurants. This in-demand event is sure to book fast.
Please DO NOT make reservations at more than one restaurant for the same meal period, as it blocks others from securing a reservation.
If you need to cancel your reservation, please do so with as much notice as possible so restaurants have the opportunity to book the table.
Mention "Restaurant Week" at registers for special pricing at the Casual Dining or Sweet Treats locations.
Tax and gratuity are not included in the price per person.
All pricing listed above is per person per meal (lunch or dinner) at one designated location.

Plus, ENTER TO WIN a $100 Gift Card to The Promenade Shops at Saucon Valley during Restaurant Week, November 3-7, 2013. See participating restaurants for entry blanks.
Courtesy of