Sweet & Sassy is more than a salon, its a celebration! Sweet & Sassy is a cutting-edge children's salon, trend-setting retail store and the perfect celebration place! Customers enjoy top-quality services including haircuts, up-do's, mini-manicures, mini-pedicures, ear piercing, spa and glam girl packages, and a selection of six signature birthday parties.

Sweet & Sassy's service areas include:
Snip-Snap Station: Trained stylists provide high quality boys and girls haircuts, up-do's and braids. Pampered Place: Customers giggle as they tossup their toes in our plush purple pedicure pit. Glam Central: Spa & Glam Girl Parties are a big hit at Sweet & Sassy! Sweet & Sassy Shoppe: Offering all things sweet and sassy: accessories, room décor, bath products, and gifts.
| | | |
| --- | --- | --- |
| | | currently @ Sweet & Sassy |
Back-to-School | Haircut Special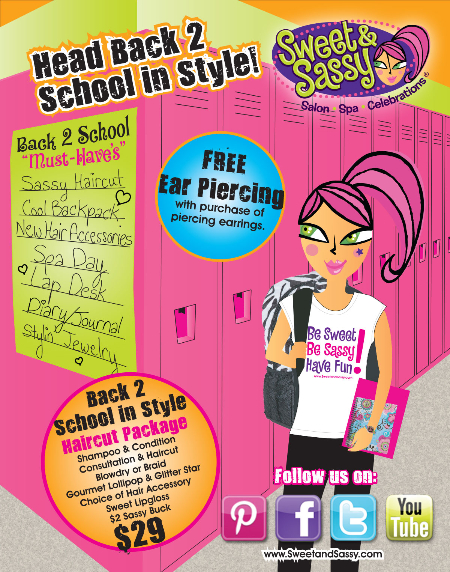 It's time for Back to School Haircuts! Our Back 2 School in Style package features a Shampoo, Condition, Blow Dry or Braid, Lollipop, Glitter Stars, Hair Accessory & Lip Gloss for just $29! Space is limited so call to book your appointment now! Call 610-79-SWEET!
SpaGirl Style-out Package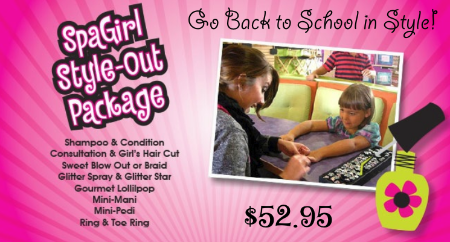 Go Back to School in Style!
Shampoo & Condition
Consultation & Girl's Hair Cut
Sweet Blow Out or Braid
Glitter Spray & Glitter Star
Gourmet Lollipop
Mini-Mani & Mini-Pedi
Ring & Toe Ring
$52.95
Call to make an appointment today - 610-797-9338
store information

| | |
| --- | --- |
| | In Location 104 |
| | 610-797-9338 (SWEET) |
| | View Jobs |
Save |Map