Easter Bunny Arrival
Saturday, April 1, 2017 at 11 AM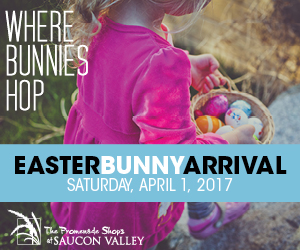 Where Bunnies Hop
Join us inside Barnes & Noble for a craft activity at 10:30 am, followed by a special story time with the Easter Bunny at 11:00 am. Then, hop along outside with the Easter Bunny to the Gazebo in Town Square
for picture services and a live performance by Miss Maggie Sings!
Children who meet with the Easter Bunny can enjoy a FREE Coloring Book and Easter Egg,
courtesy of QNB, while supplies last.
Stay tuned for more details!